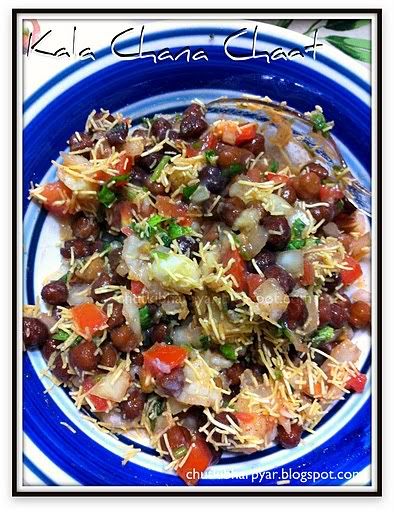 Lelo...Lelo....Chana chaat lelo...:) Yummm! I love Chaats. They are tangy, spicy, sweet and so so yumm....and I thank god Radha is one too. I often make this for evening snacks.
The recipe is really simple and easy to make... does need some preparations like soaking the kala Chana over night...:)
Ingredients :
Kala Chana - 1 cup

(Soaked overnight and cooked in the pressure cooker for 4 whistles)
Onion - 1

(finely chopped)
Tomato - 1 large

(finely chopped)
Potato - 1 big
(boiled and diced)
Salt to taste
Lemon juice - 1 tsp
Red Chilli powder - 1 tsp
Tamarind chutney - 1/4 cup

(optional... but if u have it its better)
Pepper - 1/4 tsp

(optional)
Fresh Coriander leaves - few sprigs
(finely chopped)
Green chillies - 1
(finely chopped)
Sev - 1/2 cup
(for garnishing)
Method :
1) Take the cooked Kala chana in a bowl. 2) Add the chopped Tomatoes, Green chillies, onions and potato in the bowl along with the chana and mix well. Add the salt, red chilli, pepper and mix well again. 3) Mix in the lemon juice , tamarind chutney and fresh coriander leaves. Garnish with some sev and serve.
Your tangy, tasty evening snack is ready. Yum Yum yum !...:) Enjoy this awesome chaat n do remember me when u do ;)