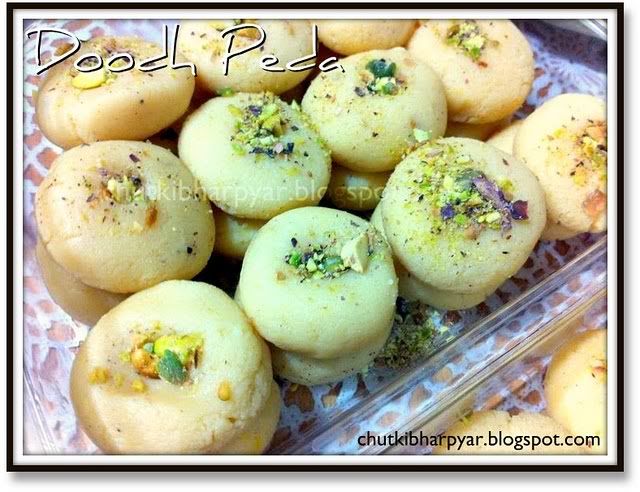 Deliciouso ! I love milk sweets. Anything made out of milk (except payasams) I simply love them especially the bengali sweets. Somehow I can't stop myself from have seconds n thirds and fourths.... well u know what i mean ;)
I saw this Microwave doosh peda recipe in spme blog.. I dont remember where... and bookmarked it (I lost the link when I formatted my pc ). It was the most simple recipe and the pedas where awesome... as if I entered a sweet shop in India..:) yumm! I did find a scribble on my recipe book for the peda....which i had written for a friend. (thank godd!!!! :P) So happy to see the recipe... I decided to try these again...:) its a fool proof recipe. I will share the original recipe when I get it through my innumerous seraches. I do remember the picture for the original peda.... but forgot the link... hmm so stupid right?
Anyways this what I had scribbled on my notebook...:)
Ingredients :
Low fat Milk powder - 1 3/4 cups
Condensed Milk - 1 can

(14 oz)
Butter / Ghee
(room temperature)
- 4tbsp
(1/2 stick)
Cardamom powder - 1/4 tsp
Crushed pistachio - for garnishing
Saffron - few strands

(optional - i didn't use it )
Method :
1) In a microwave safe deep bowl add the butter, condensed milk, milk powder and cardamom powder. Mix well.
2) Microwave for 3-4 minutes. Remember all microwaves differ so keep checking.
Remove and microwave the mixture every 1 minute.
3) Take a small portion and try to roll it between ur fingers. If it retains the shape and doesn't stick, that means its done.
4) When it cools, take small lemon size pieces and roll into a ball. Gently press in the centre forming into a disc.Put some coarse pitachio powder in the centre of the peda and press well.
your lovely pedas r ready to be enjoyed. It was yumm!