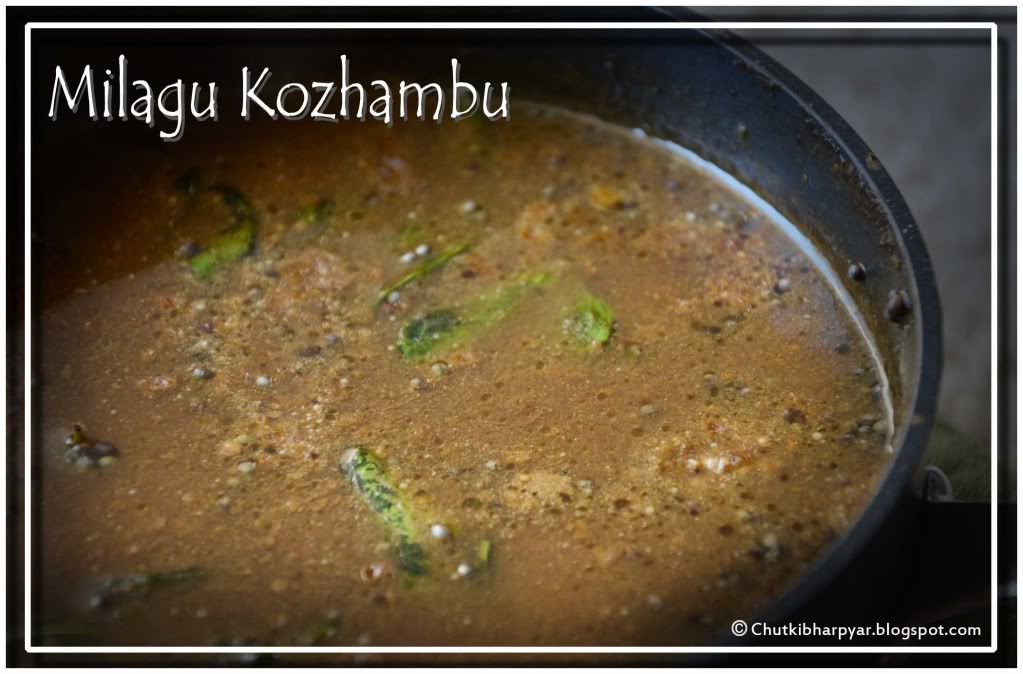 The weather has been so bad for past 3 weeks here in Los Angeles. We r getting this unexpected rains and the temperature is dropping down day by day. As a result of all this me and "R" fell ill with cold, cough and congestion. I hate having cough. I can manage even fever and running nose.... but cough is something I cannot manage.
A sweet friend and Neighbour got me this Milagu kozhambu...(pepper gravy) which helped me to ease out and soothe my throat....and the taste was terrific..:). This was the only thing I had for 3 days in a row until my cough and cold was almost gone..(poor "R"..:P). Black pepper has very good medicinal values and is considered to be the best medicine for cold and flu. I followed the recipe from the Indian Vegetarian Kitchen blog. I just altered the pepper a bit (read increased First batch 2 tsp then second batch 1 1/2 tsp) as I felt like having more pepper. And the result was I literallly cried out all my mucous hehehhe...The second batch was better...:P. But I feel for "normal people" unlike me... the quantity given in the IVK blog is perfect...:).
Anyways here goes the recipe.
a) Ingredients :
Tamarind concentrate /pulp - 2 tsp mixed with 1/2 cup water
Sambar powder - 1/2 tsp

(rasam powder will also do ;)..)
Asafoetida - a heavy pinch
Riceflour - 1 tsp
Powder jaggery - 1 tsp
Salt to taste
Mustard seeds - 1tsp
Curry leaves - few
Olive Oil - 1 tsp
b) For roasting and grinding :
Urad dhal - 2 tsp
Chana dhal - 2 tsp
Red chillies - 2
Whole black pepper - 1 tsp ( I added 1 1/2 as said earlier..)
Curry leaves - few leaves
Method :
1) Dry roast the above ingredients (b), cool and grind with little water to form a paste. Keep aside.
2) In a vessel add the prepared tamarind water along with salt, sambar powder, hing and 1 cup of water and bring it to a boil for 15 mins.
3) Now add the ground masala to this and mix well. Continue to boil for another 10 mins so that kozhambu becomes a bit thick. If not, add rice flour (mixed in 2 tsp water) to the mix to thicken it.
4) Mix in the jaggery and stir well to dissolve it. Let it boil for few more mins.
5) In another small pan add oil. when hot add the mustard seeds and curry leaves. Once the mustard seeds finish crackling add this tempering to the mixture and mix well.
Serve hot with steamed white rice and ghee. Delicious and heavenly when ur having a bad cold..:) Enjoy and take care :D