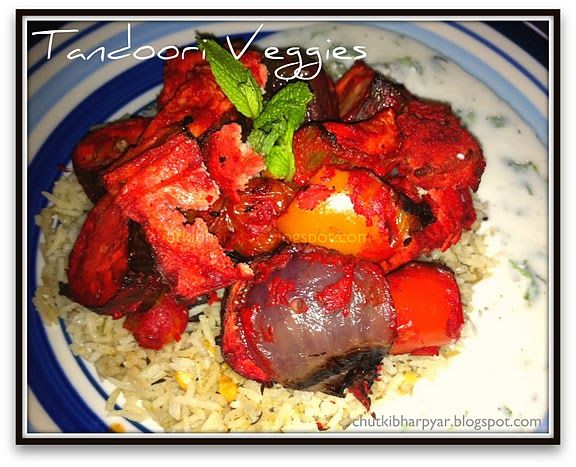 Well as a lovely friend said....looks like I am on a streak...:) I am posting almost everyday from the past 4 days....which beleive me is a lot according to my earlier posting schedule :P. Hope I keep the good work on.
Anyways coming to the recipe....its a vegetarian tandoori dish using tofu and other vegetables. Many friends who saw this pic first thought I have become a non vegetarian and started cooking mutton or chicken....hmmm maybe they thought so because of the colour. But I guarantee this is pure pure vegetarian dish :P
It easy to make and goes good as an evening snack or serve it on a platter of pulav n raita..:)
Ingedients :
Firm Tofu - 1 cup

(chopped in big cubes)
Green bell pepper - 1 cup

(chopped in big chunks)
Cherry tomato - 1 small box
Button Mushrooms - 1 small box
Chinese eggplant - 1

(chopped in thick slices)
Zuchini - 1 big
(chopped in thick slices)
Onion - 1 medium
(cut in big chunks keeping the layers intact)
Garlic - 3 cloves
(minced)
(you can use other veggies like squash, potato etc)
For the Marinade :
Salt to taste
Hung curd - 1 cup
Tandoori Masala - 2 tsp
Chaat masala - 1 tsp
Kitchen king masala - 1/2 tsp
Pepper - 1/2 tsp
Ginger paste - 1 tsp
Coriander cumin powder - 2 tsp
Red chilli powder - 1 tsp
Lemon juice - 2 tsp
Olive oil - 1/2 tbsp
Red food color - 2 pinches

(optional)
Method :
1) Preheat the oven at 350 F.Mix all the marinade ingredients in a bowl

(except oil).

Beat it well into a smooth paste. Do a taste check and adjust the seasoning.. the marinade should be nice n thick...not runny. see that ur hung curd has no water in it at all..:)
2) Put all ur chopped vegetables in a big bowl. Add the marinade to this and mix gently. Dont mush or break the vegetables. U can use ur hand to toss it gently.....so that the marinate coats all the vegetables well.I do that :) Cover and leave it here for atleast an hour.
3) After an hour thread in the vegetables in any order u want into a wooden skewer. Wet the skewers before threading the veggies so that they dont burn in the heat from the oven. U can even skip the sweker and actually roast these of stove top using a hot hot pan / tava :)
4) Anyways once u have threaded the veggies place them in the preheated oven for 15 minutes. keep turning it in between and keep and eye on the oven all the time. U dont want ur veggies to be burnt...:). Additionally u can run the oven at "broil" for 2 mins maybe to give it a charged look...:)
Ur Tandoori veggies r ready. Remove it from the skewers and serve it along with some yogurt dip or simply serve it on ur vegetable pulav. Enjoy !